ZUNN LED
NEON CONCEPT
We Consult, We Design, We Create
Highest-Quality Custom LED Neon Signage
in Malaysia
 Illuminate Your Space with Custom LED Neon Signs
Welcome to Zunn LED Neon Concept, your go-to destination for premium Custom LED Neon Signage in Malaysia. We take pride in offering the most eye-catching and bespoke neon signs that will make your space shine bright.
Why Choose Our LED Neon Signs?
At Zunn LED Neon Concept, we believe in the power of personalization. Our LED neon signs are crafted with precision and attention to detail, ensuring that every design is a true reflection of your vision. From business logos to inspirational quotes and personalized messages, we can turn your ideas into stunning neon reality.
Unmatched Quality and Craftsmanship
We are committed to delivering the highest quality LED neon signs in Malaysia. Our signs are crafted using premium materials, ensuring durability and long-lasting brilliance. Whether it's for your storefront, office, event, or home, our neon signs will add a touch of elegance and uniqueness to any space.
Endless Customization Options
With Zunn LED Neon Concept, you are in complete control of your neon sign's design. Choose from a wide range of font styles, colors, and sizes to match your preferences. Our team of skilled designers is here to assist you every step of the way, making sure your custom neon sign turns out just the way you envision it.
Fast and Reliable Delivery
We understand that timely delivery is crucial for your projects. That's why we offer fast and reliable shipping within Malaysia. No matter where you are located, your custom LED neon sign will arrive at your doorstep on time and in pristine condition.
Easy Installation and Energy-Efficiency
Installing our LED neon signs is a breeze. They come with easy-to-follow instructions, and you can have your sign up and running in no time. Moreover, our LED technology is energy-efficient, allowing you to enjoy the mesmerizing glow while keeping your electricity bills in check.
Warranty Period
1 Year for Indoor
6 Months for Outdoor
Delivery in 7 days
Complete and Delivery to your doorstep
Factory Price
Direct Local 100% made in Malaysia
Customer Reviews
Our clients praise us for our great results, personable service and expert knowledge. Here are what just a few of them had to say: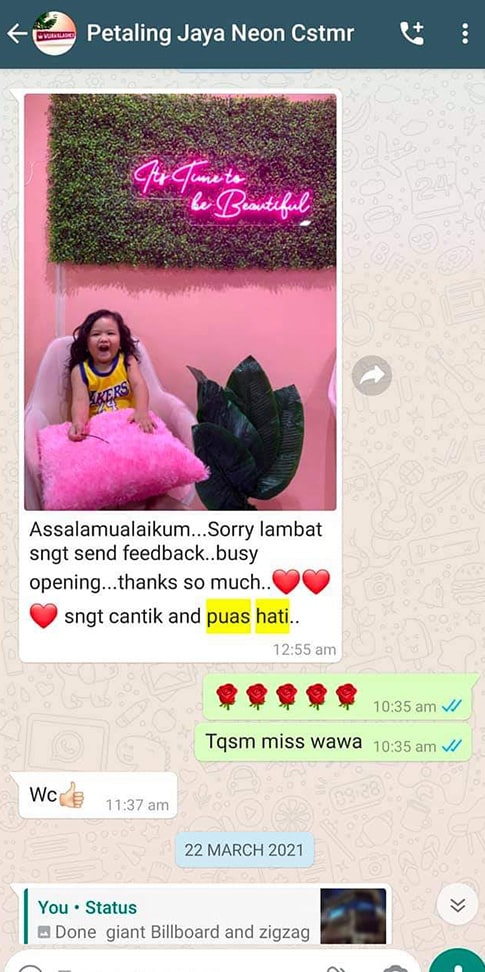 Get Your Personalized LED Neon Sign Today
Ready to light up your space with a captivating custom LED neon sign? Request a quote now and let us create a unique masterpiece that will leave a lasting impression. If you have any questions or need assistance, our friendly customer support team is just a call away.